MY MIATA

Sometime near June 29th 2000, I decided that I wanted a new vehicle. At that time I was driving a 98 Ford Explorer, definitely not a bad vehicle by any means ( unless you look at the whole Firestone Wilderness AT tire fiasco! ). Well, for some reason, I was compelled to get a Mazda MX-5, otherwise known as the Miata. I have had an obsession with the Miata since 1993 and always loved the look of them. In 1999, the Miata was redesigned and behold, the new, sleeker Miata was born...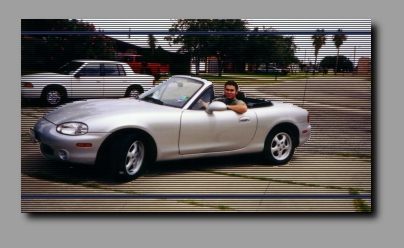 At first, I looked fora used model, but none of them appealed to me. I found a 1990 silver with 140,000 miles already on it. No, I wanted my baby new. After looking around for a couple of days, I made the trade. I said goodbye to my reliable Explorer for the compact Miata, talk about a change!
The first few days were difficult. The Explorer was automatic and my Mia is standard, that took some getting used to. I was not happy at first. I kept thinking,"what have I done?" 2 months and a bit later, I have no regrets. I can honestly say that driving my Mia is an absolute joy. I go way out of my way to take the extra drive, just because. My favourite time to drive so far has to be about 7:00 in the evening when the sun is setting and my top is down. That is just an experience that has to be done to be understood.
For the all the latest and greatest information about the Miata, check out Miata.net.